Did you know solar energy is the cheapest and most abundantly available form of energy? It is sustainable, energy efficient and fastest growing alternate. In the next 30 years, average roofs with solar panel can reduce pollution atleast 100 tons of CO2!
That obviously means cleaner air for everyone.
The cost of installing a solar system is decreasing significantly over the last few years, in addition incentives offered by government as well as public policies are driving the popularity of solar. Roofing plays an important role in optimising feasibility for setting up a solar system.
Metal Roofs – Perfect platform for solar panels
With solar roofs gaining immense thrust, the most preferred system for solar PV integration is metal roof. It is natural for one to choose metal roofs for installing solar panel because of its service life that even surpasses the life of a solar PV system.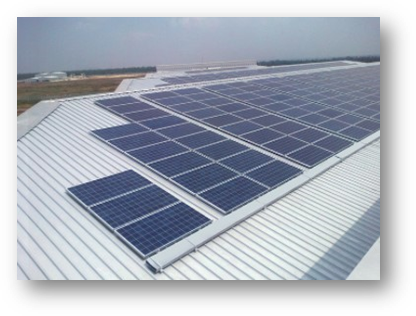 LYSAGHT® Roofs with solar panel
Some of the advantages of metal sheets are as under:
Lifespan
Metal roofs offer strength, durability and long-lasting performance as compared to other roofing options.
Sustainable
Metal roofing is sustainable roofing type – that can be recycled and reused; and is conducive to lower solar installation costs, which is important for buyers that value both environmental and economic energy efficiencies.
Energy Efficient
The combination of colour coated metal roof and solar panel further lowers energy consumption which ultimately results in attaining high energy efficiency with cost savings.
Ease of installation
It is easier to install a metal roof and less expensive to mount it on solar panels. Solar PV can be mounted flawlessly on the standing seams or ribs of the roof, which serve as the rails to which modules are attached with reliable mechanical attachment methods; clips.
Return on Investment
Many building owners are now replacing their old roofs with metal roofs, especially for its ROI. Several elements contribute at making traditional roofing more expensive as compared to metal roofs due to cumbersome processes involved.
Focus on energy efficiency and sustainability has led to an increase in the use of solar in infra, industrial, manufacturing and commercial structures along with a sustained demand for metal roofing. Together, the two go together for their durability and low maintenance.
At Tata BlueScope Steel, we have always tried to constantly innovate through customized solutions that are strong, durable and sustainable. To address the demands of the solar segment in near future, we are equipped to provide optimised and high-quality solutions for bridging the demand supply gap. With ILIOS®, we aim to offer tailor made solutions addressing diverse customer needs.
ILIOS® – Perfect Synergy for Solar Energy
ILIOS® under the aegis of LYSAGHT® offers performance based solar module mounting solutions for roof-top applications. These customised structures offer higher corrosion resistance, weight optimisation and quick installation to ensure full value for customers seeking long-term advantages.
Let us see some of the advantages of ILIOS® Mounting Solutions
ILIOS® Mounting Solutions are powered by LYSAGHT® Roofing: High strength light weight LYSAGHT® profiles are compatible with ILIOS® Roof-Top Solar Mounting Solutions. They are fixed with special clips that are indigenously designed and developed to specifically suit LYSAGHT® profiles. Solar panels are directly mounted on LYSAGHT® profiles, instead of drilling holes which eliminates the chances of leakages and faults in roofing system. Additionally, LYSAGHT® profiles are made from sustainable COLORBOND® steel or ZINCALUME® steel that is backed by THERMATECH™ technology, which enhances the thermal performance of your roof. This reduces the overall energy consumption; making your metal solar roofs sustainable, energy efficient and cost effective.
If you are someone looking for an alternate and sustainable roofing solution; do get in touch with our experts for more information. Not only would you land up investing in a greener future, committed to the environment; but earn complete peace of mind!