LGFS – WHERE TIME IS MONEY, WITHOUT COMPROMISING ON QUALITY
Superior steel structure built with cost effective solution and delivered well within timelines; is a true customer delight. LGFS (Light Gauge Framing Systems), is a proven technology that transforms customer demands into reality. The advantages you can derive as a builder or an end user with LGFS, are immense.
But, before we go any further, let us understand what exactly is LGFS?
Light Gauge Framing System (LGFS) or Light gauge Steel framing (LGSF) is a construction technology using cold-formed steel as a construction material. It can be used for roof, floor, wall systems of the entire building.
Let us see some of the benefits LGFS has to offer:
1. Advanced Technology: Light Gauge Framing System (LGFS) is a leading construction solution based on recent developments in the field of science and technology. Automation in production processes and high precision equipment, enable production of frame shape with even 1 mm accuracy.
2. Quick, Easy & Precise: LGFS can be placed on a lightweight brick foundation or light strip foundation. Picking and lifting machinery is minimized. The only tool used for installation is a screw gun. Heavy crane or heavy lifting equipment aren't required. LGFS systems are not welded; they are tightened with the help of tap-bolts or nonthreaded fasteners, enabling rapid installation for early occupation and quick revenue generation. These buildings demonstrate precise geometry and high strength properties. Metal properties eliminate shrinkage or deformation at the end of installation. LGSF technology is based on "dry" construction methods; consequently, the structure could be installed at any time of the year and under all adequate weather conditions.
3. Reliability with Durability: A Light Gauge Steel Structure is dependable due 550 MPa steel that goes into its making. Anticorrosive Metal coating protects metal against rust with no seasonal impact, enabling long-term operation of buildings.
4. Broad interior layout opportunities: LGSF technology enables creation of interior spaces of up to 16 meters without additional supporting structures. This helps designers and architects realize their modern and innovative ideas into reality.
5. Environmentally friendly: Steel is odorless, environment friendly material which does not emit hazardous substances. Properly used steel structures are safe to human health and environment. All frames are insulated with completely processed organic materials.
6. Cleanliness: Construction site remains clean and clutter free. All components of a Light Gauge Steel Structures are prefabricated and preassembled in accordance with design objectives. Materials that are exclusively required for assemblage of the entire building are delivered to construction site. Leading to minimal construction waste, offcuts or defective products.
7. Optimized Costs: Overall cost of pre-fabricated cold formed steel building is less compared to RCC due to various reasons: It is less labor intensive. Takes less time for construction, hence early occupation for revenue generation. Foundation cost is lower due to lighter material. Structure is completely, relocatable. Operational cost and maintenance are less due well insulated claddings and long-term performance of steel.
Tata BlueScope Steel offers Light Gauge Steel Framing Systems and solutions under EZYBUILD® smart steel structures. These Light Gauge Steel Framing Systems are made from 55% Al-Zn Alloy coated ZINCALUME® steel of AZ150 G550 (550 MPa minimum yield strength), complying with AS 1397 and IS 15961 standards.
Apt for industrial, commercial, residential and institutional applications, these ready to install solutions are quick alternatives to conventional buildings and are available through a dedicated network of authorized EZYBUILD® solutions providers.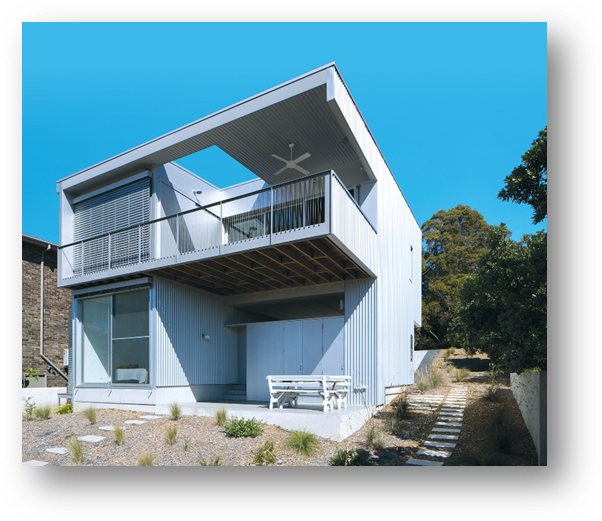 Smartly designed LGFS structure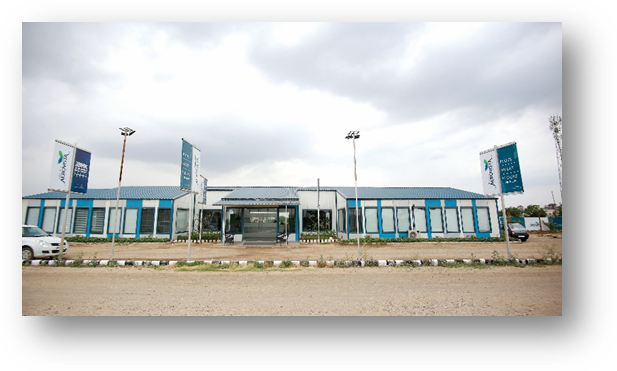 LGFS rigid frames ensure strength & performance
So, if you are looking at smart, rapid build technology and require an end-to-end hand-holding from design to execution; you may contact our team of Experts on contact@tatabluescopesteel.com or visit the company website https://tatabluescopesteel.com/products-solutions/lysaght/ for more information.