The roof of a structure is the first line of defense that is constantly exposed to the sun; making it a critical factor when it comes to energy efficiency. Since metal roofs reflect heat away from buildings, they are considered as one of the most energy-efficient roofing materials available in the market place and can save up to 40% in of your energy costs in summers along with excellent insulation during the winters. While considering roof's thermal performance you need to know its Emissivity – the ability of the roof to radiate sun's heat away, Reflectivity – is the roof's ability to reflect heat back and Thermal Resistance – resistance to heat flow inside the building.
LYSAGHT® roof and wall cladding solutions by Tata BlueScope Steel offers roof installations/profiles that are made from COLORBOND® steel which is backed by energy efficient Thermatech® technology incorporated in its paint system that enhances the thermal performance (due to Higher Solar Reflectance value (SRI)) of the roof, ensuring lesser energy consumption. It reduces surface temperature by absorbing lesser heat from the sun. In other words, COLORBOND® steel with Thermatech® technology can reflect more solar heat, thereby keeping both roofs and buildings cooler inside. A reduction in heat stress results in greater durability of the entire roofing system enabling greater ROI. Thus, Thermatech solar reflectance technology ensures cool comfort, while reducing energy cost.
Not only are the roofs thermally efficient; but they include many features that contribute to the energy efficiency of the complete structure. Let us see some of the factors that contribute to the energy efficient technologies with LYSAGHT® roofing:
LYSAGHT® Roof is Solar Compatible: High performing roofs with solar compatibility reduces overall energy consumption resulting in high energy conservation with cost savings. Moreover it is easier and less labor intensive to install solar panels on metal roofs that flawlessly integrate with the standing seams of ribs of the roofs that perfectly serve as the rails to which modules are attached with specially designed clips.
Offers special Insulation system:A well-insulated roof such as LYSAGHT® helps maintain ambient temperatures inside the structure; be it intense heat or the chilling winters. It is ideal for multiple applications especially manufacturing facilities and commercial complexes. LYSAGHT® insulation system also works as an infill between two metal sheets. It not only reduces heat transmission but also keeps away exterior sounds such as thunder, rain, hail etc. noise from penetrating inside the building through the roof.
Compatible with Turbo Vents: With no operating cost; Turbo vents work on wind energy with an assured ventilation of 24×7. By replacing hot inside air, humidity, smoke and gas fumes with fresh ambient air; Turbo Vents with LYSAGHT® roofing improves human comfort and induces productivity.
LYSAGHT® roofs with Skylights: For improved moods, less fatigue and reduced eyestrain with natural lighting; skylights play an important role in saving electricity consumption. Creates comfortable and visually stimulating environment while improving the energy efficiency of the building; making it a sustainable solution.
Roofs with Louvers: LYSAGHT® roofing solutions offer innovative LOUVERMAX™ louvers with natural ventilation that minimizes space required for fans and other ventilation equipment making it not only energy efficient but also cost effective.
With more reasons than one to believe how LYSAGHT® roofing solutions contribute to the next level of energy efficiency; your quest for a sustainable and cost-effective structure with a long-term performance ends right here!
Do get in touch with our experts for your next project or visit the website for more information regarding our solutions and services: www.tatabluescopesteel.com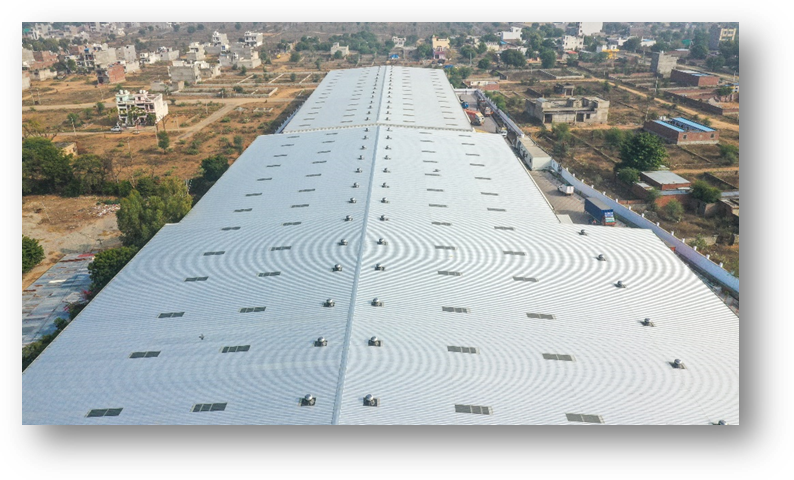 KS Infra – Rajasthan a commercial warehouse that leases space to the likes of MRF Auto and Pidilite Industries has installed Turbo Vents well integrated with LYSAGHT TRIMDEK® Roofing that ensures fresh air for all working inside the facility
SJLT Spinning Mill, Tamil Nadu derives their energy efficiency with a sprawling line-up of solar panels mounted on LYSAGHT® Roofs with ILIOS® Solar Roof Mounting Solutions