'First impression is indeed the last impression' is an old cliché that even today stands true, especially when it is our own factory, warehouse or a commercial structure. Selection of the right cladding material sets a perfect tone for the rest of the structure followed by its interiors. External material and colour choice is much more 'permanent' decision and any compromise in that can affect both aesthetics and performance. An impactful ingredient that contributes immensely towards the overall life of the cladding material thereby the longevity of the steel structure, is its colour coating. Colour coatings are used to give painted steel long-term protection under corrosive conditions, maintaining its strength and integrity.
Painted steel sheets are generally referred to as colour coated sheets. The sheets used particularly for roofing and walling in the construction industry are mostly pre-painted. These pre-painted steel sheets usually have metallic coating beneath the paint. The substrate i.e. metallic coated steel coil is processed on a continuous paint line to get the pre-painted steel coil. A typical paint line involves activities like uncoiling, cleaning, pre-treatment, primer application, painting (top and backer coat), baking and recoiling (Refer Fig. 1).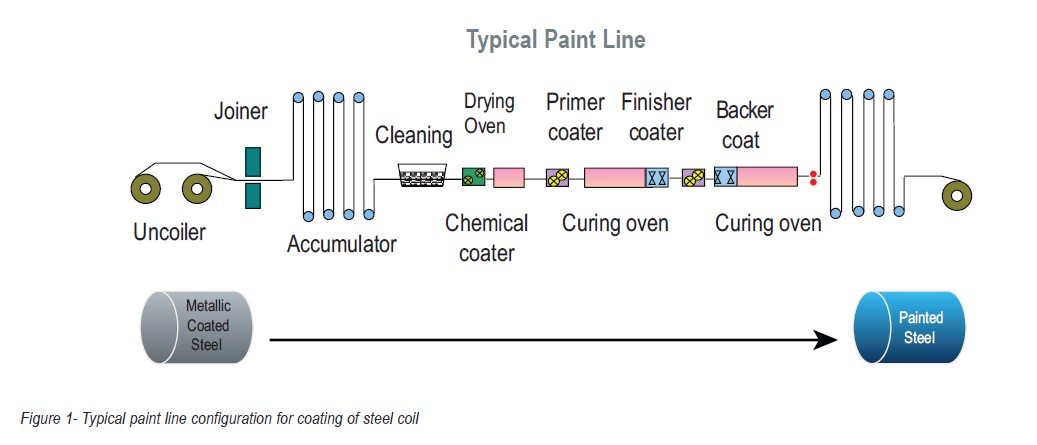 Pre-painted Steel – A System
The pre-painted steel has substrate, conversion coating, primer and paint coats on both the surfaces. For best performance, there needs to be synergy and compatibility among different components of the paint system and the substrate. Normally, the paint coats for the two surfaces of a coil are different because of the difference in performance required. The surface to be exposed to weathering is referred to as top coat and other side as backer coat. However, the paint coats for both surfaces could be same. Such pre-painted steel is called double sided. Structural stability is function of base metal thickness & steel grade, whereas corrosion resistance is contributed by type of metallic coating & paint system
Various Paint systems in Pre-painted steel
It provides aesthetics, protection of substrate and thermal efficiency to structure. Paint shade determines Solar reflectance Index (SRI), hence crucial parameter while building material selection. There are various paint systems available in pre-painted systems
Regular Modified Polyester (RMP)
Silicon Modified Polyester (SMP)
Super Durable Polyester (SDP)
Polyvinylidene fluoride (PVDF)
Thickness of base substrate known as Base metal Thickness (BMT),while the thickness of metallic coated substrate is termed as TCT, i.e. total coated thickness (Base steel + metallic coating), the thickness of painted steel is called TPT, i.e. total painted thickness (steel + metallic coating + paint film).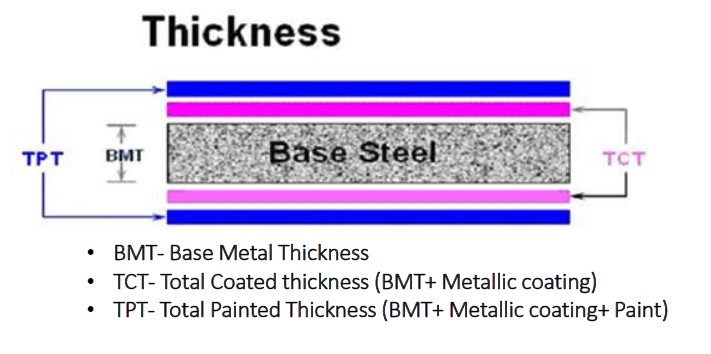 Tata BlueScope steel expert team can guide you for right material selection that suits your building environment
COLORBOND steel edge
COLORBOND® steel is one of the world's most advanced pre-painted steel products for the building and construction industry. COLORBOND® steel has been designed to provide an excellent strength of the steel base, the corrosion resistance of 55% Al-Zn Alloy coated ZINCALUME® steel and the superior aesthetics of an advanced top & backer paint system. COLORBOND® steel coils are typically supplied in various colours in grade G300 and G550 with base metal thickness ranging between 0.30 mm to 1.30 mm and widths of 900 mm to 1250 mm.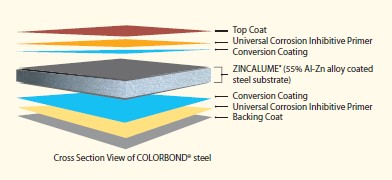 Depending upon aesthetics & environment conditional requirement, Tata BlueScope steel offers COLORBOND® steel with multiple variants as
COLORBOND® XRW
COLORBOND® Spectrum Series
COLORBOND® Ultra
COLORBOND® XPD
COLORBOND® Metallic
Successfully tested for over five decades, COLORBOND® steel has withstood challenging weather conditions; ranging from extreme cold, dust, cyclonic, saline coastal environments to heat zones exceeding 50 deg C. Best in class paint system helps to resist chipping, peeling and cracking, ensuring COLORBOND® steel delivers a long lasting performance for generation to come. Widely accepted by most progressive sectors like manufacturing, warehouse, infrastructure etc., COLORBOND® steel is most preferred choice of Architects to transform landscape around us