Engineered by Experts, Delivered with Perfection
Metal roofing is a common term used for a broad range of roofing options.
Standing Seam Roofing System is one of the many offerings within this spectrum of roofing solutions that promise greater leak proof performance, balances modern & contemporary architecture and is a great profile to strengthen your structure.
We at Tata BlueScope Steel, being leaders in color coated roofing products and solutions offer best-in-class engineered standing seam profiles.
FORTISS 470™ is the new generation of 360° seam locked roofing system developed by Tata BlueScope Steel. It's unique design of the clip and profile deliver excellent weather tightness performance. The system is an ideal choice for large industrial, commercial, and warehousing buildings, looking for bigger spans, better performance, a quick turnaround, and customization.
360 Degree Lock Profiles
These profiles are rolled formed with specific edges that line up with each other. Once the two panels are engaged, a hand or mechanical seamer bends the edges and locks the panels together. Roof panels are permanently seamed together with a 360° Pittsburgh Double-Lock Seam creating a single steel membrane, floating, monolithic roof. This seam is the same as seams on beverage cans and auto gasoline tanks. Thus, creating the tightest seam available today.
FORTISS 470 ™ Advantages
360 Degree Standing Seam with on-site roll forming
High rib traverse flutes for better stability
Floating system for easy thermal expansion and contraction
Optimized thickness as per customer requirement
Single sheet from rib to eave for assured weather-tightness
Moreover, FORTISS 470™ Roofing and Walling is manufactured from high strength COLORBOND® and ZINCALUME® steel that promise superior aesthetics with a greater degree of corrosion resistance.
Step wise process:
| | |
| --- | --- |
| Step 01 | Step 02 |
| Step 03 | Step 04 |
| Step 05 | Step 06 |
Standing seam systems can be used on structures with many different planes and sophisticated, complex designs, which is why architects are specify standing seam profiles more often. Standing seam metal roofing's variety of options and versatility makes it an excellent choice for virtually any building type, including commercial, residential, architectural, structural, and beyond.
Tata BlueScope Steel's experience and expertise as a leading player in colour coated roofing industry have helped many architects, consultants, property owners with high performing roof and wall cladding solutions.
Contact one of our experts today!
FORTISS 470 ™ Profile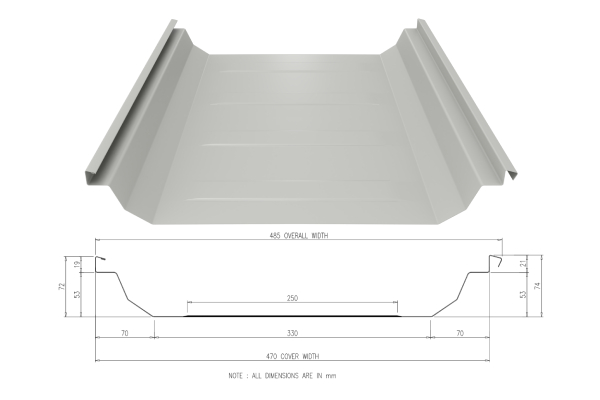 FORTISS 470™ Roof Clip – Specially designed Clip for a Weathertight Performance