In this blog, we explore the realms of creativity that are possible using steel for roofing and wall cladding applications. Not only does metal coated and pre-painted steel offer creative options for shape and design, there are several other benefits which award 'flexibility' to designers and builders. Structures made from steel can offer looks ranging from the classic to the contemporary. Metal coated and pre-painted steel can also be used to add accents and flavour to otherwise utilitarian industrial or commercial constructions.
Discover Design Flexibility in steel buildings, and remember you are only limited by your imagination!
While we consider design flexibility with steel cladding material, the following considerations become pertinent:
Can this material be used for industrial /commercial purposes?
Is this material suitable for long spans & complex shapes, sizes?
How easy is it to use? Can local unskilled labour be used?
Can you make unique, artistic designs with it?
How does it compare on project costs?
Are there time constraints to build a structure with such material?
Can one use space more effectively by using this material?
A decade ago, construction was limited to modular designs available only in regular dimensions. The "boxy, industrial look" of buildings is now a thing of the past. Due to the unique properties of steel, the client is no longer forced to fit his needs around predefined modules. Building designers today have at their disposal, a growing number of techniques and products that help them essential function of a building, while aesthetics of building to be ensured
Roofing material
Metal roofs have been a preferred options covering for commercial, institutional and industrial buildings for years because of their ability to protect against the elements, to allow water to drain away from the roof surface, and to keep building contents and occupants dry and comfortable. Coated steel also provides the designer with several options to create unique and aesthetic. Following aspects are essential considerations
Roof fixing




The two possible varieties of roofing are standing roof or seam with fasteners. The advantage of standing seam roofs has given designers flexibility for innovation with building structures and styles while ensuring a leak proof roof.

Designs with curved roof




Designing with coated steel allows for both traditional straight roof sheeting as well as innovative curved roofing designs. The strength of coated steel provides virtually limitless design possibilities. The curved roof helps create additional indoor space while still meeting strict building height guidelines. Due to its flexibility, coated steel is capable of accommodating the double radius of the curved roof, with great accuracy of the curves. From flowing curves to precision flatness, metal is easy and economical to install. This freedom of design provides the architect and owner the opportunity to build within a wide range of styles and create an image that will endure.



Designs with sloped roofs




Recently, building owners and architects have come to recognise and appreciate the attributes of "low slope" metal roofs such as their long service life, low life cycle cost, sustainability, low maintenance requirements etc. Unlike non-metal systems which require an underlying substrate or deck, "low slope"metal roofs can be applied directly over bar joists or purlins. Due to their interlocking or active fastening systems, metal roof panels are designed to meet the requirements of severe wind and uplift tests. To ensure longer life, majority of low slope roof materials are protected from the elements due to the highly durable metal coatings & Pre-painted steel
When building owners and architects require an attractive and affordable "steep slope" roof covering for a commercial project, chances are that more and more of them will choose a metal roof. Steep slope metal roofs, for example, can enhance the appearance of virtually any building due to their receptivity to various coatings and their ability to be formed into a wide variety of shapes. Because steep slope metal roofs accelerate the rate of water run-off, they also reduce the likelihood of a build-up of debris, mold and mildew. At the same time, they are less likely to experience staining from acid rain or UV degradation than non-metal steep slope systems. The durability and reliability of steep slope systems is high. No other product has done more to change the profile of architecture than steep slope metal roofing. Metal roofs have now added a new design element to a building that separates them from the less attractive flat roofs.



Optimum Space Utilisation




Larger interior spaces, high clearances and spans without interior columns add flexibility of design & utility to steel buildings. The high tensile strength of steel enables excellent spanning capabilities for framing and roofing providing more flexibility in designing internal spaces that maximise opportunities for cross ventilation, helping to meet energy efficiency requirements. To obtain a desired design you can reduce the width of the joist and compensate it with heavier gauge steel without changing the spacing of members.
At times this large span is a must requirement e.g. aircraft hangar. However, it could only be achieved with self-supporting steel framing system with no need for interior walls to help bear the weight of the building. With this self-supporting steel frame interior walls can easily be eliminated, altered or relocated and large open floor plan created including raised ceilings. This excellent spanning capabilities offered by steel framing provides more flexibility in designing internal spaces that maximise opportunities for cross ventilation, helping to meet energy efficiency requirements.

Ease of Construction




On-site construction of steel building is easy, highly efficient and safe, which less skilled labour can quickly learn. There is not much measuring, cutting or wet processes and the pre-manufactured fit-out can be integrated with interior and exterior fittings using local labour. Workers can be easily trained to use steel building systems in combination with other materials as well

Cost Advantage




Studies from across the world suggest that pre-engineered building solutions costs less than other construction methods. The variety in steel gives options at different price points without
Compromising on the design. Steel construction offers the potential to build substantially more covered space with the same cash flow. Steel buildings can be built in much less time without increasing site resources, thus freeing capital and finite resources for other projects – "The efficiency of use of working capital". Offsite prefabrication increases the speed, efficiency, quality and safety of construction. It is also less expensive to integrate into existing structural systems. The predictability of cost and program also improves
Design friendly attributes by COLORBOND® steel
COLORBOND® steel is one of the world's most advanced pre-painted steel products for the building and construction industry. COLORBOND® steel has been designed to provide an excellent strength of the steel base, the corrosion resistance of 55% Al-Zn Alloy coated ZINCALUME® steel and the superior aesthetics of an advanced paint system. COLORBOND® steel supplied in various colours in grade G300 and G550 (yield strength of minimum 300 MPa and minimum 550 MPa) with base metal thickness ranging between 0.30 mm to 1.30 mm and widths of 900 mm to 1250 mm. COLORBOND® steel integrates high strength with ease to formability, slitting, shearing & spanning to adopt required shape & size.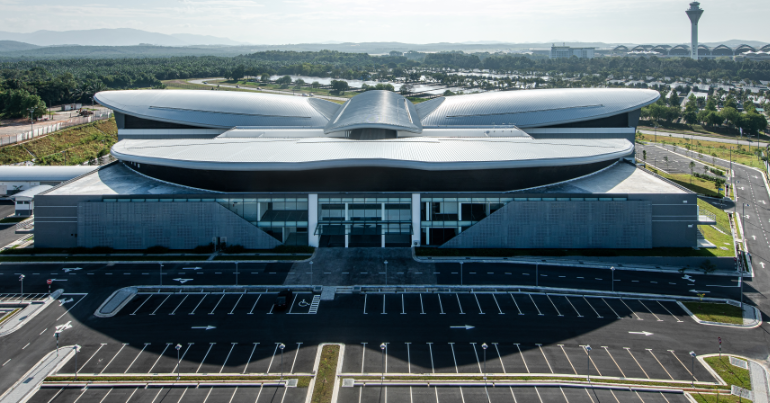 COLORBOND® steel is not just painted, but has a paint system that delivers longer life and superior aesthetics. The unique composition of the paint system consists of stable resins and inorganic pigments that do not break down easily even under severe UV radiation, thus preventing fading and chalking for longer
Designed specifically for steel construction industry, cladding material that can be twisted, tapered, sliced and angled; COLORBOND® steel is indeed a designer's delight, seeking pure customization and liberating your freedom of thought. It accentuates signature styed architectural creations with a modern-day streak. Leaving your mark for generations to come.