What would you do to be more productive? Simply open a window or a vent; and take a breath of fresh air! Absurd as it may sound, but true to its letter, fresh air improves productivity and your bottom line.
A healthy building is the one that allows better air quality for the people working in it.
It's time industrial and manufacturing should recognise the importance of louvers and take necessary actions to optimize their air quality for employees' health and overall productivity. Air-flow is an important part of any workspace system while keeping rain, dust and debris out.
Louvers play an important role in determining how we maintain our interiors more conducive. They help in maintaining cool and ventilated insides and keeps out unwanted water or moisture infiltration.
Threats that can result in heavy maintenance in absence of Louvers are:
Influx of dust settled on equipments or machinery, over the time can cause premature equipment breakdown and unwanted accidents.
Moisture infiltration can ruin interior surfaces and encourage mould growth.
Let us see how Louvers help prevent contaminants out of your industrial building:
You will find Louvers mostly in industrial and storage buildings. They comprise of the ventilation system on roof and wall, often required to reduce accumulation of dust, vapor and heat inside buildings to conducive levels. If combined with roof ventilators, louvers provide continuous circulation of fresh air, creating healthier environment for the building occupants.
Industrial wall louvers are used for mainly air ventilation, air intake, air exhaust, and decorative applications as well and are available in diverse range of performance and appearance possibilities. While providing fresh air, Louvers can also provide aesthetics to building design.
Industrial Louvers are packed with benefits such as:
Stronger: Industrial Louvers are much stronger than their commercial counterparts. Made of thicker gauge material such as extruded aluminium or stainless steel. They easily withstand the heavy industrial wear and tear.
Larger: Industrial Louvers are larger than commercial louvers. They also work in conjunction with one another. Dozens of units become placed in a row to create one long wall louver.
More Efficient: With the larger size of the unit, and the higher level of airflow required, industrial louvers are often more efficient than non-industrial units.
Tata BlueScope Steel offers custom-designed louvers through its Building Products division.
About LYSAGHT LOUVREMAX®
LYSGAHT LOUVREMAX® is a high-strength roll-formed steel louvre system that ensures both security and ventilation. Made from high strength steel these louvers are functionally superior and are ideal for various cladding applications such as manufacturing facilities, warehouses, industrial set ups etc. that require high volumes of air inlets. Well designed & strategically placed LOUVREMAX® provides an excellent source of natural ventilation to ensure maximum air flow.
LYSAGHT LOUVREMAX® Design Advantages
LOUVREMAX® innovative baffle designs help prevents rainwater and sand dust penetration.
LOUVREMAX® system is designed to produce optimal balance between aerodynamic performance & suitable protection from rain penetration.
LYSAGHT LOUVREMAX® minimizes space required for fans and other ventilation equipment.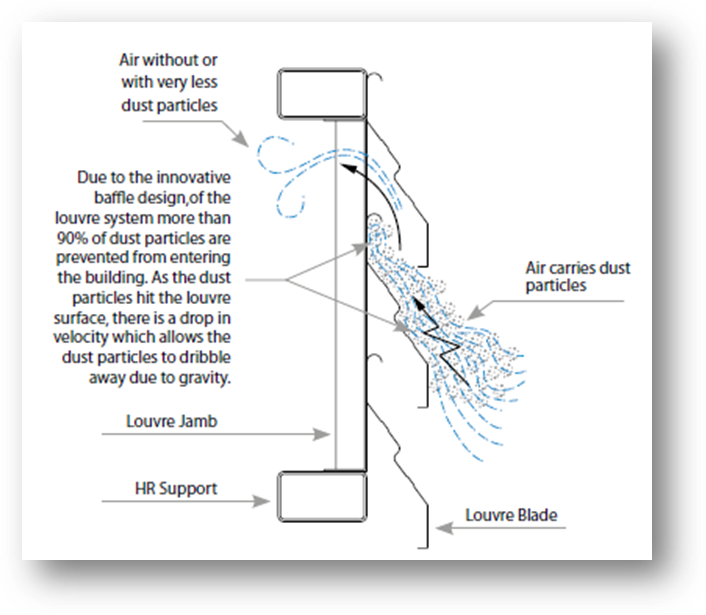 LYSAGHT LOUVREMAX® System reduces water penetration by 33% as compared to ordinary louvers
These optimally designed, and functionally superior louvres are compatible with high strength light weight LYSAGHT® roofing profiles available in multiple shapes and colours. Comfort, durability and superior finish make Louvre Systems from Tata BlueScope Steel the most preferred choice! If you are looking at setting up your next industrial facility, a warehouse or a manufacturing premise; do get in touch with our team of experts or visit the website: