As you start building your next project, the first thing that probably comes to your mind is what kind of roof you want. If you've chosen a metal roof, sifting through different metal roofing options can be challenging and overwhelming. However there are two most preferred metal roof types: screw down metal roofs and standing seam, or "exposed fastener" metal roofs. The exact choice will depend on several factors such as budget, build-speed requirement, impact load, lifespan, aesthetics, environment, application etc. This article will focus on screw-down profiles and their benefits as an economical and effective solution; which will also help you take an informed decision.
What is screw-down profile?
Screw-down metal roofing is essentially a corrugated metal roof held together with many exposed screws that clasp the roof in place. It is one of the most basic forms of metal roofing you'll find in the market, and is particularly common over warehouses, railways and metro stations, manufacturing plants, infra and industrial establishments.
Advantages of Screw-Down Metal Roofs:

Firstly, Screw-down roofing is one of the simplest forms of roofing available.
Secondly, it is quick and easy to install as the roof is simply fastened to the frame with screws, which cuts down on installation time, offering a relatively straightforward installation process.
It is excellent for withstanding high wind load, snow load or impact load i.e. foot traffic, enabling ease of maintenance.
With the right kind of accessories, especially designed SDS class 3 screws with black EPDM washers, correct installation practices, regular maintenance; one can achieve long-term performance!
Being pioneers in color coating steel industry and manufacturers of its allied products, Tata BlueScope Steel has mastered the art of crafting precision-oriented roofing solutions with an array of screw-down profiles to choose from including: TRIMDEK®1015, BR II™ 900, SPANDEK® 935, CUSTOM ORB® 990, VARYDEK® 1000 and Tile profiles. All profiles offer compatible accessories which are made from superior material with higher corrosion resistance and greater thermal efficiency.
LYSAGHT® screw down profiles are specially designed to provide anti capillary groove to ensure water-tightness for leak-proof roof performance. Best-in-class accessories offer greater performance and corrosion resistance. Our design and technical experts ensure proper installation methods to optimize overall roof performance, ultimately delivering value to our customers.
So what are you waiting for? Contact LYSAGHT® expert today, for a free counselling session to get best offers on screw-down profiles.
You may send your queries to contact@tatabluescopesteel.com or visit the company website www.tatabluescopesteel.com for more information.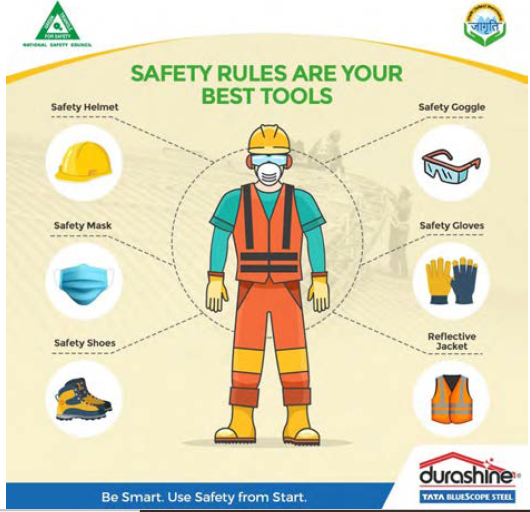 Kolkata Metro adorned with LYSAGHT TRIMDEK® Profile
Valpoi Bus Stop, Goa in a scintillating LYSAGHT SPANDEK® 935 Profile
MRF Manufacturing, Trichy with LYSAGHT TRIMDEK®